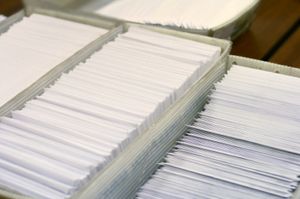 Direct Mail
As digital marketing exploded the past two decades, a direct mail campaign might seem quaint or old-fashioned. Truth is, they are more effective than ever. Digital marketing is easy and inexpensive. In the beginning, that was a huge draw for a company looking to make their advertising dollars stretch. Unfortunately, everyone started doing it. That leads us to today, where most of our inboxes and social media feeds are so full of information and noise that it's hard to stand out.
The solution? Unleash the power of printed communications!
Improve your audience targeting with a direct mail campaign. Get your brand in front of the eyes you want and drive the right consumers to your products faster. Our experts can help you put together a campaign to optimize your budget for maximum impact and ROI. A targeted approach ensures each dollar you spend gets you the results you want. It's about quality, not quantity.
A balanced and diverse marketing campaign is vital to the success of your project. Multi-channel marketing leaves no stone unturned, promising you the most return on your efforts and dollars. Part of that is putting together a direct mail campaign that cuts through the noise and gets you results. Flaire Print is your one-stop shop for all your needs: digital or direct mail.
With over 40 years of experience, we know direct mail inside and out. It isn't enough to just print postcards and advertisements. You need a partner who can help you determine how to balance your campaign, target your audience and guide you through all the options available. You need a collaborator who can help you manage your information and make sure it's successful. You need a direct mail campaign from Flaire Print.
Mail Services:
Data Processing and Analytics

Dupe Elimination / Merge Purge Requirements

NCOA (National Change of Address) CASS Certification Presorting

Inkjet Envelope Addressing

Mail lists

Inserting / Sealing / Tabbing / Hand Assembly

Name Match