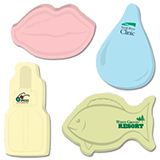 Post-it® Custom Printed Notes Shapes — Extra-Large
Overview
Exact Color Match Printing!
Cut from 4" x 4" note pad.
Fun, memorable shape for even greater impact!
Available in a wide range of sheet counts and a wide array of paper colors.
Imprint your logo and message in 1-4 colors.
Other standard shapes available. Download PDF.
Stock art available (upon request) at no extra charge for many standard shapes.
Custom shapes are available, call for charges and details
Made in U.S.A.
NO ADDITIONAL CHARGE for set-up, screens, PMS inks (fluorescent, special mix and metallic inks not included), virtual samples.
Production Time To Match Your Exact Color: 7 working days after receipt of complete order or after approval of proof.
Standard Shapes - Extra-Large
Blackjack Cards
3 11/16"W x 4 1/2"H

Bus
3 13/16"W x 5 11/16"H

Circle
3 11/16"W x 3 11/16"H

Clouds
3 13/16"W x 2 5/8"H

Corn Ear
3 23/32"W x 5 13/32"H

Down Arrow
3 3/4"W x 5 11/16"H

Droplet
3 3/4"W x 5 9/16"H

Eco Bulb
2 21/32"W x 5 5/16"H

Eye Dropper
2 1/2"W x 5 19/32"H

Flower
3 1/8"W x 2 15/16"H

Football
3 13/16"W x 2 1/2"H

Large Bubble
3 13/16"W x 3 13/16"H

Lips
3 15/32"W x 5 19/32"H

Octagon
3 3/4"W x 3 3/4"H

Paper Doll
3 13/16"W x 5 27/32"H

Pig
3 25/32"W x 3 11/16"H

Rectangle with Round Corners
3 3/4"W x 5 11/16"H

Rectangle with Slant Corner
3 3/4"W x 5 5/8"H

Santa
2 27/32"W x 3 1/4"H

Shamrock
2 27/32"W x 2 15/16"H

Shopping Cart
4"W x 3 7/8"H

Snowman
2 1/2"W x 5 19/32"H

Tennis Shoe
3 25/32"W x 3 1/4"H

Thumbs Up Down
3 13/16"W x 3 3/32"H

Tractor
3 25/32"W x 5 1/8"H

United States
3 3/4"W x 3 5/8"H

U-Shape
3 3/4"W x 5 3/4"H
U.S. State Shapes - Large
Alabama
3 13/16"W x 5 21/32"H

Arizona
3 3/4"W x 4 1/2"H

California
3 13/16"W x 5 11/16"H

Connecticut
3 1/2"W x 5 13/16"H

Georgia
3 7/8"W x 4 5/8"H

Illinois
3 3/8"W x 5 25/32"H

Iowa
4 5/16"W x 2 19/32"H

Kentucky
2 5/8"W x 5 11/16"H

Maine
3 13/16"W x 5 1/2"H

Michigan
3 13/16"W x 4 7/8"H

Minnesota
3 23/32"W x 4 9/32"H

Montana
5 3/4"W x 3 13/16"H

Nebraska
5 3/4"W x 2 11/16"H

Nevada
3 13/16"W x 5 5/8"H

New Hampshire
3 1/4"W x 5 13/16"H

New Jersey
3"W x 5 11/16"H

Rhode Island
3 13/16"W x 4 7/8"H

South Carolina
4 15/16"W x 3 13/16"H

Texas
3 11/16"W x 3 3/8"H

Vermont
3 1/2"W x 5 13/16"H

Virginia
5 11/16"W x 2 1/2"H

West Virginia
5 3/4"W x 3 13/16"H