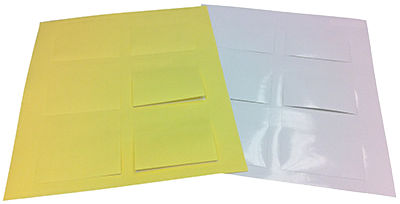 Generic Printable Sticky Notes for Laser Printers
Six 3" x 2 7/8" notes per page. Pages are 8.5" x 10".
Two paper color choices: Uncoated bright yellow or white gloss.
Print individual notes with your art through your ink jet or laser printer.

Print one at a time, or a full page of six; sheets can go through your printer repeatedly.

Prices listed are per sheet.

Be sure your laser printer can print on a 10" sheet.
Call Flaire today at 866-428-9611 with your order.
| Item # | Description | Price per sheet |
| --- | --- | --- |
| FPC10P | 10 sheets laser notes (6 notes/sheet = 60 notes) | 4.55* |
| FPC25P | 25 sheets laser notes (6 notes/sheet = 150 notes) | 2.46* |
| FPC50P | 50 sheets laser notes (6 notes/sheet = 300 notes) | 1.82* |
| FPC100P | 100 sheets laser notes (6 notes/sheet = 600 notes) | 1.62* |
| FPC250P | 250 sheets laser notes (6 notes/sheet = 1,500 notes) | 1.49* |
| FPC500P | 500 sheets laser notes (6 notes/sheet = 3,000 notes) | 1.35* |
| FPC1000P | 1,000 sheets laser notes (6 notes/sheet = 6,000 notes) | 1.18* |
| FPC2500P | 2,500 sheets laser notes (6 notes/sheet = 15,000 notes) | .93* |
*Shipping is FOB Mpls. Minimum handling charge of $12.00.
All orders are shipped UPS ground unless otherwise noted.
Call Flaire toll-free 866-428-9611